Kansas Archery Deer Hunting Outfitters
Kansas archery deer hunting is one of the more exciting hunting seasons for us at Rader Lodge. Were able to hunt all of November during the whitetail rut. It's not uncommon to see 15 or 20 bucks a day on a good day. We see quite a few whitetail deer 140 class and up during the deer hunting season.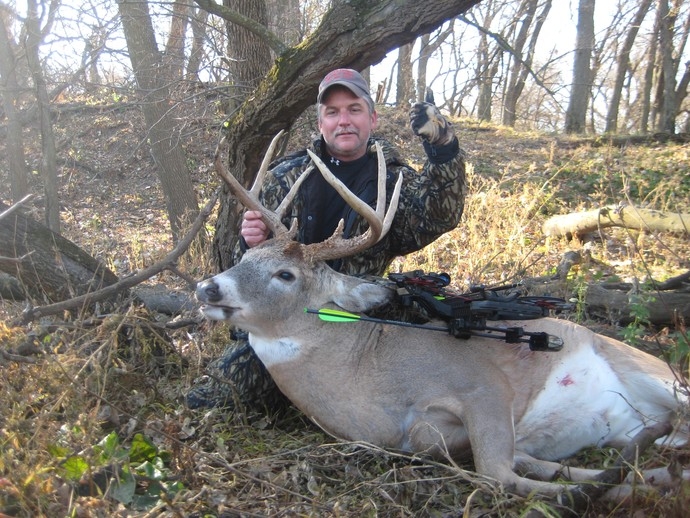 Bowhunting Details
Time in the Field - Expect to spend a lot of time in the woods, because you can't kill a buck sitting in the lodge.
Location- We set up on scrape lines, pinch points and feeders. Decoys work well here at certain times.
Scent Control - Scent control and working the wind a must.
Stands - We have treestands and ground blinds setup but you may need to place a hang-on stand in a slightly different location. We will help you and give you our best advice.
Scouting - We pre-scout for you, so make sure you are ready to shoot a potential monster.
Weapon - Bow or Crossbow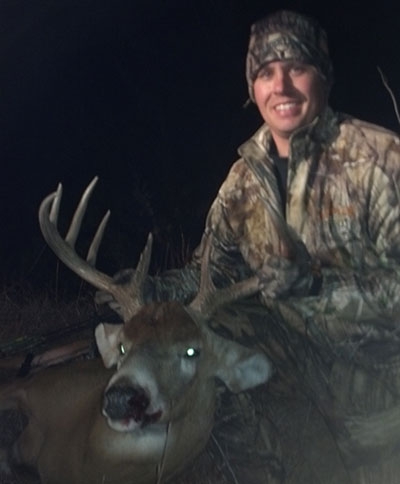 Seasons, Dates, Availability
2018 Availability

Nov 2 to Nov 9 - 3 Openings (Bow and Crossbow)
Nov 12 to Nov 18 - 3 Openings (Bow and Crossbow)
2018 Reservations - Call us to get on the schedule for 2018 to get your dates locked in. $500 deposit to get reserved.
2018 Kansas Archery Season - The Kansas archery deer season open up October 1st and runs through December 31, 2018.
Application Dates/Permit Process - We will help you through the permit process through the state. View more info at the KDWPT website.
Nonresident Deer Permit Draw - April 1 to April 25, 2018
Location - Unit 7
Handicapped Hunters - Rader Lodge accommodates handicapped archery hunters. Any questions, give us a call.
Accommodations
All of our hunts include lodging, meals & field dressing of your trophy. Our lodge is equipped with satellite T.V. as well as wireless internet.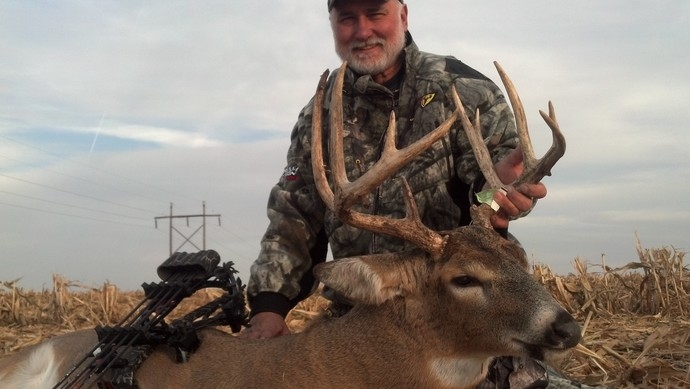 Whitetail Hunt Prices
Rate - Our all inclusive rate (not including permit) is $2750.00 for a 6 day hunt.
Includes - This includes meals, lodging, and field dressing.
Deposit - Deposit is due upon booking.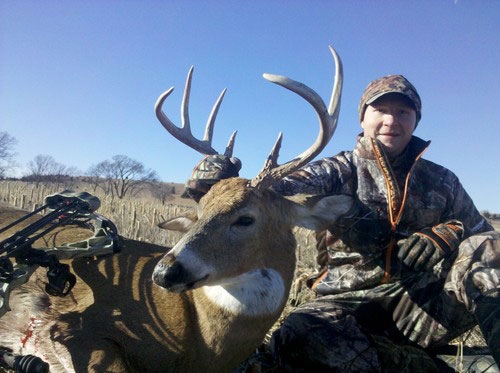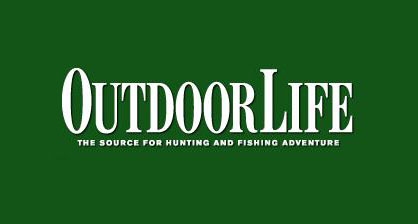 Featured in Outdoor Life
June 12, 2015 - Semi-Guided Bowhunts: What to Ask and When to Go by Mark Melotik
Rader Lodge featured in Outdoor Life about Semi-Guided bowhunts and the benefits of a semi-guided deer hunt. In the photo: Mark Melotik and Jeff Rader.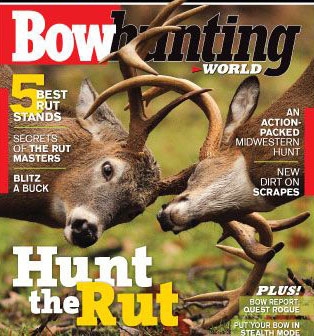 Featured in Bowhunting World
"Although I've hunted Kansas just a handful of times it sits squarely atop my list of favorite whitetail states. The reasons why are many, but maybe most notable is its dependable population of out-sized deer that seem to respond more consistently to calling techniques. And I dearly love to lure big bucks via the call. From rattling to bleating and grunting, it's been my experience that Kansas bucks—even those cagey five-year-old veterans—have shown themselves suckers for well-practiced deer vocalizations. I'm no deer biologist but the reasons why seem fairly obvious: a solid buck-to-doe ratio and huge stretches of isolated, rural landscape laced with high-protein crop fields that see relatively little hunting pressure.
Rader Lodge located in north-central Kansas. Owned and operated by longtime outdoorsman / bowhunter Jeff Rader, his operation based in Glen Elder began in 1986 as a pheasant hunter's paradise—and has grown quickly to include turkey and waterfowl hunting, fishing for walleyes, white bass, and catfish, and, of course, bowhunting for deer.
Last fall I was among a group of nine industry professionals to sample the area's bowhunting that all of us found exceptional. When it was all over five prime Kansas bucks hung from the meat pole– and virtually all of us saw and had opportunities at multiple bruiser bucks." - Mark Melotik - Managing Editor, Bowhunting World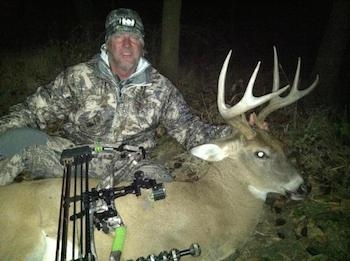 Ready to Book?
Seen enough? Call us at 785-545-3476 or fill out our contact form to request a call back. Our availability fills up quickly, so make sure you call or to reserve your archery deer hunting spot for the next whitetail season to ensure your preferred hunting dates.