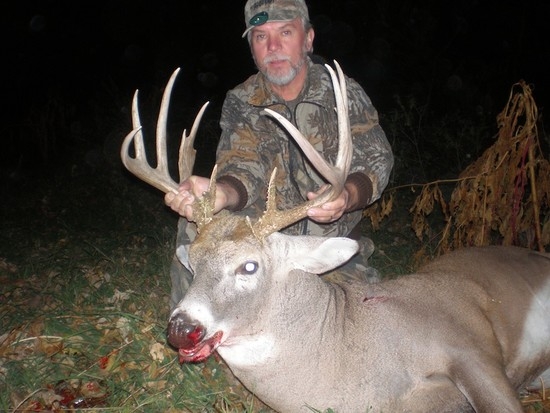 My Kansas Buck: By Tom McIntosh
I have always wanted to hunt in Kansas and have always liked to hunt different places, especially where big buck are known to roam. I have been lucky to have hunted in a few states and Canada, but Kansas was on my wish list of places to go.
The opportunity came this year after I won a hunt to Radar Lodge. I was lucky enough to be drawn in the NCBA hunt raffle at our banquet this past year. I was the second person to be drawn and I had a chance to choose from a lot of fine hunts, but something told me to go for the Kansas hunt and I am glad I did!
Jeff Radar was present at our banquet . We got to talk a little and I left the banquet looking forward to going, hoping that I would be lucky enough to get a license from Kansas DNR.
The months passed and I had my tag in hand and was on my way to hunt in Kansas. I had a good trip out and after I got settled into my room, Jeff had something ready to eat. After supper we got to talk and Jeff informed me as to what our game plan was for the following mornings hunt. We looked at a map of the farm I was going to hunt and it looked promising.
I got to sleep a little that night and was up early to a good breakfast that the camp cook had ready. The first morning Jeff dropped me off at a point and I made my way to the stand about 300 yards away. I saw one nice buck on the morning hunt and heard lots of turkeys.
Jeff showed me some more of the farm after lunch and I hung a stand that I brought with me. I put the stand in a good looking funnel area, but only saw a few deer in and out of the corn but no shooter. I hunted the same stand the next morning but the weather was hot and not much moved. I did hear a lot of turkeys and then saw them on the way back to my truck.
After talking with Jeff I asked him if I could hunt one of his other farms and he gladly let me change locations. I followed him to the new farm and after telling me where a couple of stands were located I made my way about 1/2 of a mile to the ladder stand at the back of a large field. After seeing 3 or 4 scrapes on the way in I was looking forward to the evening hunt.
Jeff had given me a new memory card for the camera he had left. It was overlooking a feeder where he had photo's of 2 nice bucks that had been working the area. I changed the camera card, put out some lure and settled in for the evening hunt.
Again I heard a lot of turkeys and then later saw a coyote and heard lots more off in the distance. I remember hoping that they didn't spoil my hunt. About an hour before dark three doe came out of the woods about 125 yards away and fed on out into the field.
The wind was blowing just right, my scent was being carried away from where I was expecting to see deer come from. The three doe fed on away from me, occasionally watching a vehicle move down the road in the distance. I was watching them to see if a buck would come out of the woods next to them, when movement caught my eye closer to me.
A doe had come out of the woods at about the same place the other ones had entered the field. She was by herself, she angled toward the wood line where I was and was passing at about 80 yards out walking on toward the fence line that I had walked in on. It was about then that things started to get interesting. In the fading light a large buck had made it about 20 yards into the field before I saw him.
He was big and I didn't have to decide if he was a shooter. I was already standing up just in case something came by. The buck was following the same path the doe had taken and was going to pass out of range of my Mathews bow if I didn't do something. About the time I started to grunt at him he stopped and looked my way.
I tried not to concentrate on his rack. He looked back at the doe and then for some reason he turned and walked straight at me. I could not believe my luck, at about 30 yards out, he turned and started walking toward the doe that was now on ahead of him. I was already in position so I pulled back my bow and grunted at him with my voice.
He stopped immediately and I released the arrow. I watched it hit and it looked good. The buck whirled and ran back into the woods where he had entered. I listened intently to gather all information I could.
I could hear sticks breaking and the sound of loud crashing, the noise seemed to last a long time, but in real time I am sure it was only a minute or two. It sounded like he went down. By that time I was shaking from the adrenaline rush. After sitting quietly for a few minutes I pulled myself together and climbed down.
Once on the ground I got all my stuff together and tried to decide whether to look for the buck or call Jeff and let him know that I had shot a large buck. Then I could have some help tracking and getting the buck out. I decided I had better call and get help on the way and to give the deer some time just in case the shot was not as good as I thought. I finally got a signal on my phone and was able to get Jeff informed of what had happened before I lost reception again.
It was going to be an hour or so before he could get there, so I went and got my truck so I could store my gear and get a better light. I decided to see if I could find the buck and have that part done, so I started out where I saw the buck inter the woods.
I couldn't find any blood on the many trails but after a few minutes I walked up on him. I couldn't believe how big of a body this deer had. I knew he was the biggest bodied deer I had ever taken. He had a large basic ten point rack with smaller points and stickers. I walked back out to the field trying to mark where the deer was so we could find him when Jeff arrived.
Jeff arrived with a truck load of people, four men and two boys. After joking that my deer turned out to be a large doe( you should have seen the look on Jeff's face). I told them that I was glad to have all the help I could get because I was going to need it.
After relocating the buck in the dense woods I called everyone over. Everyone was impressed and high fives were given all around. Jeff was almost as happy as I was. He had brought a camera and took some good photo's. We had our work cut out for us, getting the deer out and loaded, I was really thankful he had brought plenty of help. Later when we got back to the lodge everyone was
estimating how much the buck would weigh. Most guessed 250lbs or more. We decided to go and weigh him before we field dressed him.
On certified scales he weighed in at 280 lbs. making him the largest bodied deer I have taken to date, easily beating one I had at 250 lbs. The buck should score over 150 P&Y.
This Kansas hunt turned out to be one I will always remember. I had met some new friends, stayed in a nice lodge , ate good food,( prepared by a chef that was a comedian in his own right). I had enjoyed seeing some new country and saw plenty of wildlife.
Thanks to the work of the NCBA in obtaining some great hunts for the raffle that we have at our annual banquet, and also thanks to the outfitters like Jeff Rader of Rader's Lodge who had kindly donated this fine hunt.
Tom McIntosh