North Central Kansas Fishing & Guide Service
Jeff Rader and Rader Lodge guides fish on Waconda Lake Reservoir. Jeff Rader has 24 years experience of walleye fishing in Kansas and has been written up in over 50 publications across the nation. Our guides are professional and do their best to get you in to good fishing.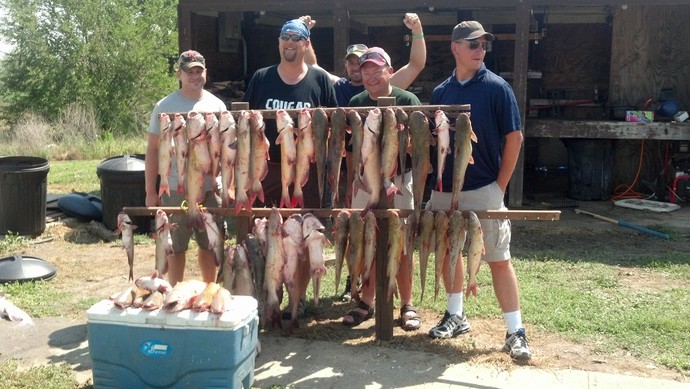 Primetime Chumming
2022 Catfishing Special
Chumming For Catfish
Chumming action for catfishing starts July 1 and we have availability through July 22. Jeff Rader introduced chumming techniques in 1998. We chum with soybeans and can produce great catches of catfish from 2 pound to 22 pounds.
We use lite tackle and fish in 15 to 40 feet of water, many times bagging limits of catfish. Due to the great water quality the fish are very tasty, perfect for a delicious fish fry!
Fishing Rates
Our rate is $149 per day and includes lodging, and a half day fishing each night of your stay. We have a 2 day minimum.

Available Dates
June 9 to June 30 - Night fishing white bass.
July 7 to July 13 - Walleye fishing and white bass fishing during the day.
July 21 to July 31 - Walleye fishing and white bass during the day.
August 3rd to August 31 - Catfishing over chummed holes white bass, hybrids and walleye during the day.
Catch Expectations
March 15 to April 5 - The ice is out and we start catfishing. We fish for catfish gorging on gizzard shad that were trapped in the winter ice. Can produce some fantastic catches of 3 to 10 pound channel cats.
April 5 - April 25 - Mostly deep water crappies on the crappie beds. White bass are spawning in the rivers and walleye spawning on the rocks.
April 25 - June 15 - Walleye and white bass. Also spawning crappie.
June 15 - June 30 - White bass surfacing and also catching white bass under the lights. Great fun!!! July chumming catfish and 50 to 100 cats in the boat common. Ranging from 2 pounds to 15 pounds. August features white bass, wipers and stripers. Can be spectacular fishing.
September - Mid October - Wiper fishing is at its best. Also white bass, etc.
Specials
Watch for Rader Lodge at county fairs, state fairs, and sport shows for fantastic specials. Also, make sure to signup for our fishing specials newsletter - our specials promo newsletter is exactly that... just promotions, deals, specials and discounts. We won't bombard you with news, or SPAM. Deals only when we are looking to fill empty spots.
Reservations
Call or email us today to get your fishing spot reserved.