Kansas Rifle/Firearm Deer Hunting Outfitters
Kansas rifle deer hunts are during the toughest time in Kansas to hunt them. Bucks have rutted for 5 weeks and basically laying around taking it easy. Need to spend a lot of time in the deep woods hoping for some noontime activity. Of course 90 percent of the hunters are sitting at the lodge while the deer are on a noon feeding pattern. Especially cold weather. Get down to zero and you will get 3 feedings a day. Also second rut kicks in and will get a lot of chasing and romancing. Good time to nail a buck of a lifetime. So what I'm saying come prepared for a hard hunt, stay out and hunt hard and you have a great chance of filling your tag.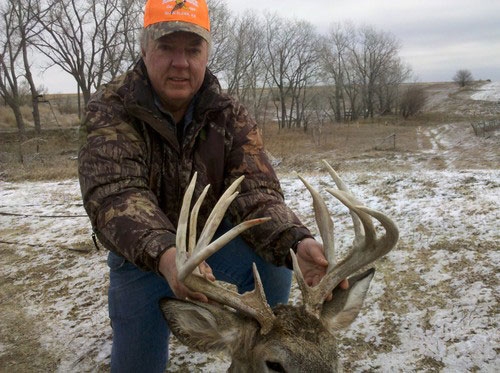 Rifle Hunting Details
Time in the Field - Expect to spend a lot of time in the woods, because you can't kill a buck sitting in the lodge.
Location- We set up on scrape lines, pinch points and feeders. Decoys work well here at certain times.
Scent Control - Scent control and working the wind a must.
Stands - We have treestands and ground blinds setup but you may need to place a hang-on stand in a slightly different location. We will help you and give you our best advice.
Scouting - We pre-scout for you, so make sure you are ready to shoot a potential monster.
Weapon - Preferred rifle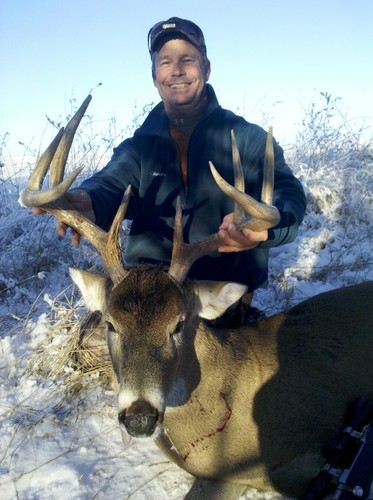 Seasons, Dates, Availability
2021 Availability (Actual Dates May Vary)

Dec 2 to Dec 7 - 6 Openings (call to book)
Dec 10 to Dec 16 - SOLD OUT
2021 Reservations - Call us to get on the schedule for 2021 to get your dates locked in. $1,000 deposit to get reserved.
2021 Kansas Rifle Season - Our Kansas firearm deer season runs Dec 3 - Dec 11, 2021.
Application Dates/Permit Process/Draw - We will help you through the permit process through the state. View more info at the KDWPT website.
Nonresident Deer Permit Draw - April 1 to April 25, 2021
Location - Unit 7
Handicapped Hunters - Rader Lodge accommodates handicapped firearm hunters. Any questions, give us a call.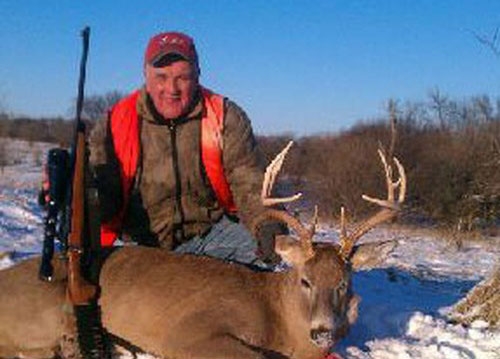 Whitetail Rifle Rates
Rate - Our all inclusive rate (not including permit) is $2950.00 for a 5 day hunt.
Includes - This includes meals, lodging, and field dressing.
Deposit - Deposit is due upon booking.
Past Success
Photo Gallery - View our Annually updated deer hunting photo gallery.
References - Andy Knapp 405-553-4842, Michael 410-708-5980, Tony 913-488-2547, David 828-553-0083, Matt 443-480-9044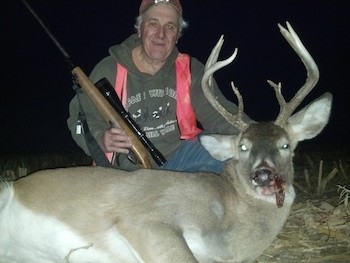 Accommodations
All of our hunts include lodging, meals & field dressing of your trophy. We offer a number of great lodging options for after the hunt. Our lodges are equipped with satellite T.V. as well as wireless internet.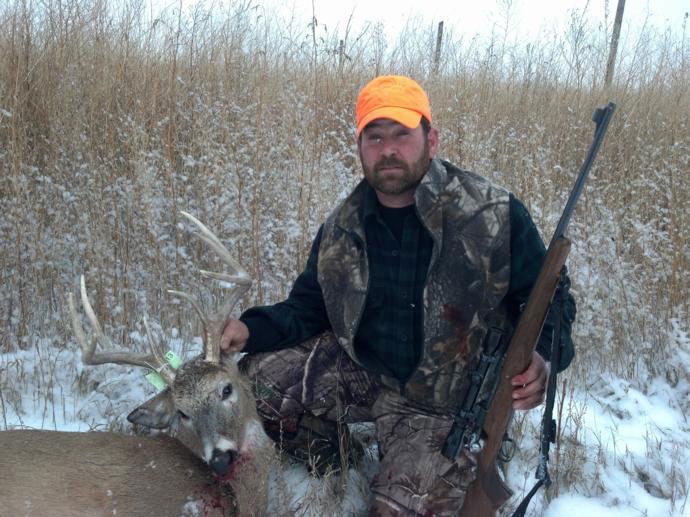 Ready to Book?
Seen enough? Call us at 785-545-3476 or fill out out our contact form to request a call back. Our availability fills up quickly, so make sure you call or to reserve your rifle deer hunting spot for the next whitetail season to ensure your preferred hunting dates.