Rader Lodge Testimonials
Here's what a few of our customers have had to say about us.
Have a testimonial of your own to share? Click Here fill out our short testimonial form.
Mike P
Hi Jeff,


I got back home and into the full swing of life and realized how much I enjoyed my trip to Kansas and hunting with you earlier this month. I'm already putting in overtime at work to save up for my trip out next year. If you're serious about trading some bow hunting time for help with your shotgun hunters next season, I'm certainly open to that. I'm taking a sabbatical from work for the month of April next year and my plan is to hunt Merriams for a few days in Nebraska at the beginning of the month, then drop south to Rader Lodge. The last week of the month I'm off to Mexico to chase Goulds.
I just wanted to say thanks again for making my second grand slam a success. I'm so glad I came back to hunt at your lodge. I also really appreciated Leon's personal help and meal prep -- there's nothing like a hot meal at the end of a long day in the field.
Thanks again,
Mike
Laden Force
Remmington Rep
Hey buddy, I sure hope that you are having a great Monday! I just wanted to write and thank you for the great experience that we had at Rader Lodge! Lee and I really enjoyed ourselves... The hunting, food, and hospitality were all exceptional! I hate that we headed out before getting to say good bye to you. Lee had to get back to the store and my wife was in need of some help on Sunday, so we decided to head on back home a little early. However, we are already making plans to come out again next year for the archery season! We are only back a day and already have six ready to go with us! Our goal is to bring a group of ten if you feel that it will not be too many... What do you think?
Thank you so much for the great experience! Take care Jeff!
Eric Markley
We made it home in good time and I just wanted to send an extra thank you to you and your staff. Chief is a real hoot and fun to talk to. Steve did a great job finding birds for us and the Kid is such an outstanding guide it was unbelievable to see a young man like him to be able to work the birds the way he did for us. Words cannot describe how happy I was with this past week in Kansas. I have already talked to the wife about bringing our youngest daughter back next spring for a turkey hunt. I will be getting in contact with you at a later date to make arrangements for a 3 day next year (2013). We have to work out her school schedule and things like that.
Thanks again,
Eric Markley
Brian Bond
The trip was amazing never had that much fun fishing a the guide was awesome.
Thanks Jeff
Mark Melotik
"I love bowhunting Kansas, and Rader Lodge has some of the best whitetail ground I've ever set foot on. One morning I'll never forget saw me rattle-in two different 170-plus-inch bucks from the same stand, where I glimpsed a total of six different Pope & Young-class bucks. If you're a serious whitetailer and haven't hunted Kansas it's time to start.
Mark Melotik
Editor, Archery Business, Managing Editor, Bowhunting World
Lee Hetherington
My hunt with Rader Lodge was fantastic! Jeff and his crew do the research; they know their land and their deer! The planning is well executed, the attention to detail is accommodating and the overall experience is memorable - I look forward to my return with great anticipation. - Lee Hetherington (Bowhunting World Magazine)
Jim Hubbard
Jeff, thank you for the great time I had while hunting Pheasant, Quail, and Whitetail. You and your staff did a great job and my 11 point Buck is now at the taxidermist for mounting. Tell Steve he can have his kitchen back. I won't be there cooking breakfast or getting in his way. Again, thank you for your hospitality and I look forward to coming back
Jim Hubbard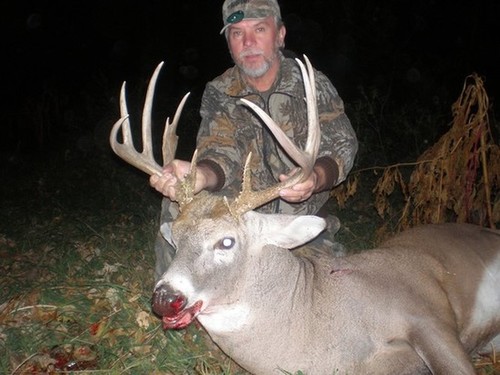 Tom McIntosh
Hi, Jeff... I hope everything is going good for you... I wanted to send you a copy of the story of my hunt with you, that will be in the next edition of the NCBA mag. I think you get the mag. If not let me or Raymond know and maybe we can send you a copy...you can use me as a reference any time.... Again I hope all is well my friend... Take care and tell everyone hello for me. Tom McIntosh
Mike Brooks
Jeff, now that I'm back in Louisiana and have had time to sort of catch my breath, I just wanted to tell you once again how much I enjoyed the week with you and steve. You guys really worked hard to see that we had a great hunt. I'll be sure and tell all my friends down here in the south all about you. I look forward to next year and another trip to Kansas. Take care and I'll see you next year!
- Mike Brooks
Mike Adams
Jeff,excellant liberated pheasant hunt. Great accomodations. You've recovered from the fire well! Great flying birds. This is our 3rd. trip here from western Kentucky 700 miles away. We will be back again and again. Mike adams October 31 2009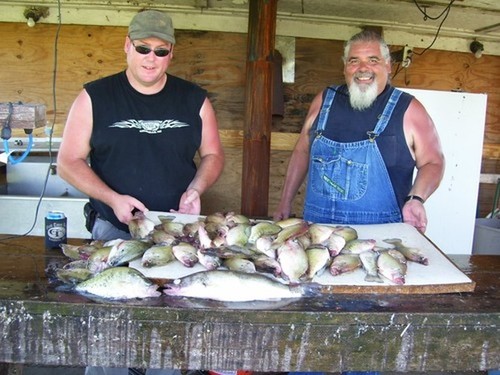 Larry Gramps
Hi Jeff can't say again how much I enjoyed this trip. Might get a full boat of just NE guys next year, as the pic's are worth a thousand words. The photo is of Scott and I after our two hours of fishing the damn with 54 Crappie, two white bass and one Walleye. - Larry Gramps
September 30, 2008 10 am, our estimated time of departure, came and we were off to Kansas. Bert Moore, Darrell Wimberley and I were leaving for a Pheasant hunt that we had gotten at the NCBA banquet last March. The truck was loaded with everything we thought we might need and we were both apprehensive and exited. Our trip was uneventful and we managed stops at Bass Pro Shop in Sevierville near Pigeon Forge Tennessee and at Cabalas in Kansas City Kansas. These were had to stops, (you guys know what I mean). From Kansas City we drove and drove and drove (seemed like forever) through back roads (we took the wrong route) to arrive at Jeff Rader's shooting preserve.
We had reached our destination at about 3 pm and since we were not going to start hunting until the next morning we shot a few clay pigeons to warm up and to check our guns. Jeff had a fire earlier in the year and his lodge had been destroyed, but they were well on the way to be finished rebuilding still Jeff provided us with great accommodations and we soon settled in unpacked and traveled to where he served us a great meal!
Very early next morning we met for breakfast and once again the food was great. Since the weather was warm they wanted us to get an early start to help the dogs stay cool and take advantage of the dew. We soon were on our way to begin our first Pheasant hunt. Jeff told us we would be hunting "liberated? birds which meant they were pen raised but at a point in time were released into an area. They would mix in with wild birds in that area so some birds would be wild. Kansas has a 4 Pheasant per day bag limit so we could take 12 birds. Jeff provided us with a great guide and two fine dogs which would flush the birds and retrieve them for us. Kansas has a lot of CRP land and there are quite a few terraces growing thick vegetation that the birds spend lots of time in to hide from aerial predators. It wasn't but a few minutes before we had our first bird flush, which I managed to shoot dead. From then on the action was fast paced and our shooting was pretty good. After only an hour we had our limit for the day.
We went back to the lodge where Jeff has a very nice deer and bird dressing facilities. We helped our guide and very soon we were through with this project and it was on to lunch, which as before Jeff fed us very well. We then spent a leisurely afternoon resting from the morning as well as the long trip to Kansas.
Jeff loves to fish, which is good because right beside the lodge is a 12,000 acre lake. Jeff also loves to have people go fishing with him, so at about 5 pm five guys plus Jeff piled into the biggest Jon boat I have ever seen and headed to his hot spot on the lake. Soon we were landing white bass nearly as fast as we could reel them in. Jeff told us the lake was stocked on a regular basis with white bass, striped bass and several other types of fish. He swears there are 15+ pound stripers in the lake and I believe him. It was a beautiful afternoon and the lake was perfect. All too soon we were back on shore and off to dress the fish. The parking area of the lake has a wonderful fish cleaning facility and Jeff made quick work of the fish. Then it was off to eat again. Jeff certainly feeds his clients well.
After a restful night we started over again, breakfast then out to chase birds. Again we had a great hunt and soon had our limit of Pheasant. Jeff had placed Chukkas in the area so we decided to hunt them for a bit. We had very good success on them also and soon it was time to go. We went back to the lodge and dressed the birds. Meanwhile Jeff had pulled out his laptop computer and showed us trail camera pictures of deer on the preserve. These pictures were taken at locations where Jeff has stands placed. We talked to him about his bow hunts for deer and decided we would be back next year for Pheasant and deer hunting.
Soon we hit the road for North Carolina and before you know it our adventure was over. We had an absolute great time and look forward to going out for a week during the rut next November.
---
Send Us A Comment
To our past clients: We appreciate your comments and if you would, fill out the form with comments and a photo about your experience at Rader Lodge. Fields marked with * are required. Please enter the Name field how you want your name to read on our website (Examples: John Doe, J. Doe, John D., John Doe Corporation).