Kansas Rio Grande Turkey Hunting Outfitters
Semi-Guided Rio Grande Turkey Hunting with Rader Lodge in North Central Kansas. North central Kansas is the home of the Rio Grande turkey. This is a great bird to hunt, with some weighing up to 24 pounds. In Kansas, you can harvest 2 Rio Turkey's, which makes Kansas very appealing to turkey hunters. Our professional guides will do a great job of getting you into some real quality birds, but leave the hunt up to you. That's the beauty of our semi-guided / self-guided hunts - we take care of the scouting for you and put you on a good Tom. If you are looking to complete a Grand Slam Turkey Hunt, Rader Lodge is a great place to bag a Rio and complete a Grand Slam!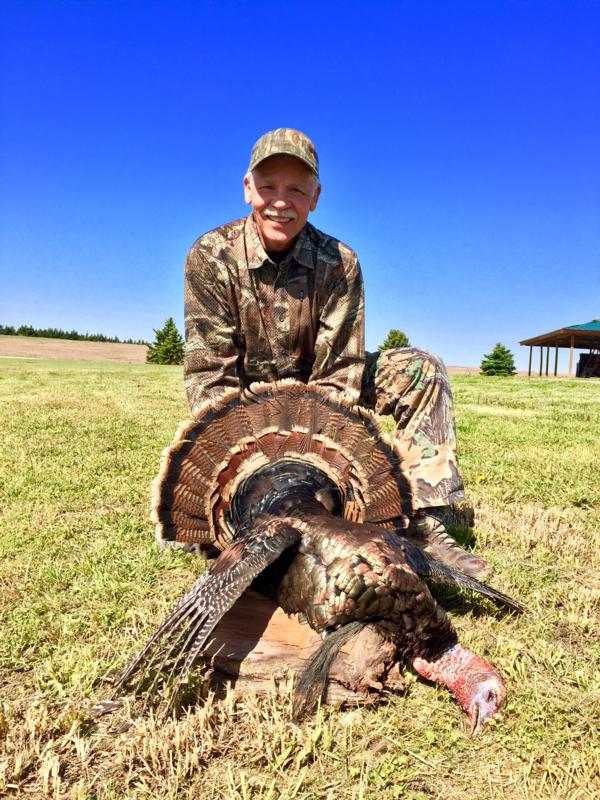 The Details
Kansas Turkey Season: The season usually opens around the 12th of April and extends into May. The last two weeks of April are prime dates.
Kansas Turkey Hunting Package: Our package includes 3 days hunting and 4 nights lodging, 2 big meals per day, semi-guided hunt, and bird dressing. Does not include permits.
Limits & Cost: 1 Turkey / $1000 per person
Guided: Semi-Guided, which means we will pre-scout and put you on the Turkey's. A guide can be included by adding $150 per day.
Photo Gallery: View our past turkey hunting customers success.
Land - Your Rio Turkey hunt of a lifetime will take place on 25,000 acres of prime turkey hunting land in North Central Kansas. Hunt by sitting and calling in one of our ground blinds or by use of spot and stock techniques.
Calling - We will use different calling techniques to bring in the birds. Yelping, clucking, purring, cackling, and more. If you have experience calling and would like, you can call your own bird in.
Decoys - We set up with decoys and also set up without decoys.
Scouting - Scouting is a very important part of turkey hunting. Our experienced guides know where the birds are roosting and know where they like to travel at all hours of the day.
Weapons - You may shoot your bird with either a shotgun or by using archery equipment.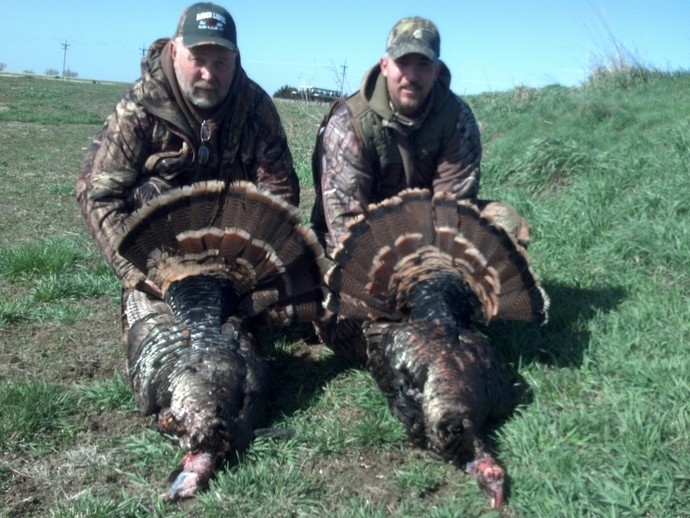 Ready to Book?
Seen enough? Call us at 785-545-3476 or fill out our request information form to request a call back. Our availability fills up quickly, so make sure you call or to reserve your Rio Turkey hunting spot to ensure your preferred hunting dates.